The optimal solution for small and medium businesses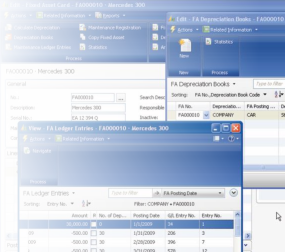 Microsoft Dynamics NAV - the most popular ERP system from Microsoft. It is easy to use solution enables people to improve their efficiency, service quality and customer satisfaction, which gives businesses the opportunity to grow and adapt successfully to new opportunities.
Microsoft Dynamics NAV - it is 1.35 million licensed users, more than 80,000 customers, more than 40 localized versions, and a network of certified partners 4000 worldwide. Microsoft Dynamics NAV provides real benefits for business development.
The popularity of the system due to the speed of deployment, low maintenance, quick adaptation to the requirements and characteristics of customer's business.
The system provides a compact, streamlined integrated functionality for financial management and distribution management, analysis, and operational control of the business, project management, production and service, customer relationship management.
Microsoft Dynamics NAV is also known by the names of pre-existing Microsoft Business Soluton - Navision, or just Microsoft Navision.
---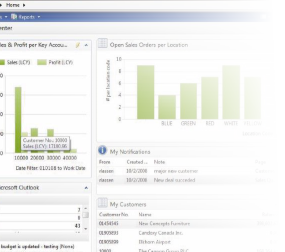 System capabilities
Microsoft Dynamics NAV 2009 allows companies to easily adapt to new opportunities and growth. The system is laid down the user experience and innovative technology that allows easier access to information, improve organizational agility, ease the integration with many existing applications, expand reporting capabilities (including the most common industry-specific requirements and companies).
Microsoft Dynamics NAV 2009 - is a user-oriented ERP-solution with innovative features that help our customers and partners to do their job effectively. Among the features of this brand new version of the system can be divided into three main ones:
The system of personalized Role Centers includes 21 role, which most often occur in any company (such as chief financial officer, chief accountant, director of production, etc.). This system allows employees to use the information that they need to perform their duties. All this information is set on one screen. From the unified information console the employee can access any business process going on in the company, which in some way relate to its duties. Moreover, partners can modify, refine and personalize the data center role.
The new BI capabilities: enhanced reporting and business intelligence (BI). This tool is based on the functionality of Microsoft SQL Server, which allows staff to study the dynamics of the data, to identify certain trends, generate various reports and compare them with the implementation of the established KPI.
Web Services allow partners and customers to integrate data and business logic from Microsoft Dynamics NAV 2009 with other applications to support a wide range of scenarios.
As part of the new version is the implemented module personnel and salary, which in a new version comes with the basic package of primary edition of Business Essential.